The Asia Pacific Masters Games 2018 opening ceremony will be held on 8th September, 2018 at the Penang City Stadium, at the heart of the Penang City.

The APMG Opening Ceremony Run start from City Hall, Esplanade (Padang Kota Lama), a seafront location, the run which will bring you thru the heart of the George Town UNESCO World Heritage Site before end at the Penang City Stadium, the oldest built stadium since 1932 still in use in Malaysia.

Opening Ceremony Run Details
Date: 8th September, 2018
Time: 06:00pm
Start: City Hall, Esplanade (Padang Kota Lama)
End: Penang City Stadium
Distance: 5km Fun Run
Registration Fees: RM50

Participant Entitlements
* Participant T-Shirts to wear during the run.
* Finisher Medal upon completion of the run within 1.5 hour.
* eCertificate of Participation.
* Light Refreshment.
* Entrance to the Asia Pacific Masters Games Grand Opening Ceremony.
* Shuttle buses will be arranged to transfer the participant from City Stadium back to City Hall at 10:00PM only after the ceremony on first-come-first-serve basis.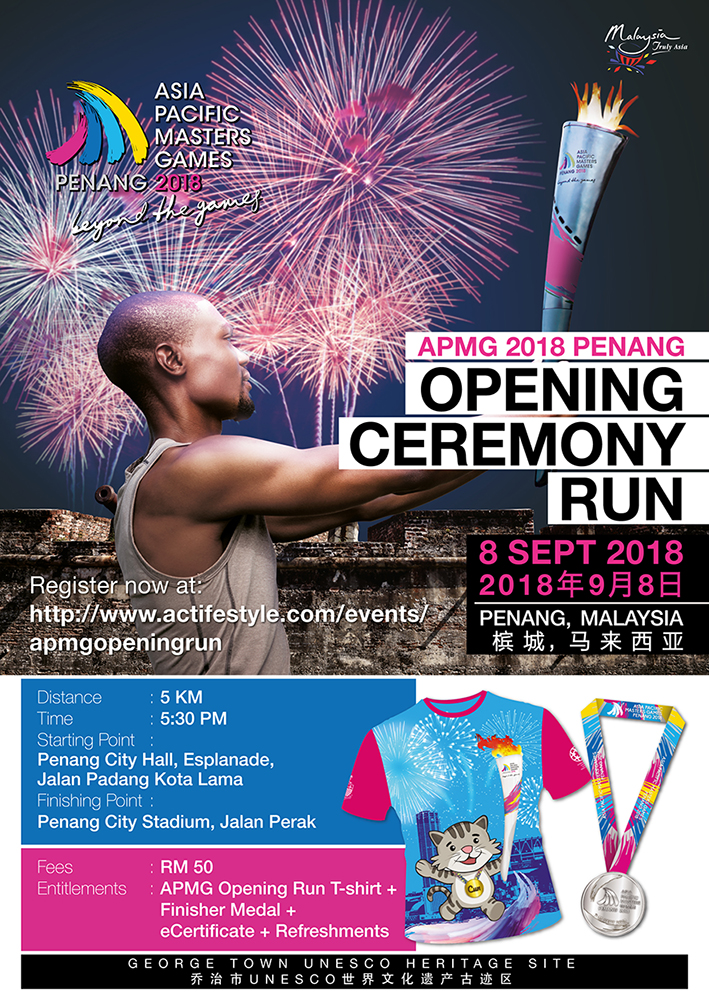 The inaugural Asia Pacific Masters Games (APMG) 2018 in Penang is the first-ever multi-sport Masters Games to be staged in Asia. The event on 7-15 Sept, 2018 is expected to attract more than 5,000 athletes from around the world, and is hosted by the Penang state government with the support of Penang Island City Council and Seberang Perai Municipal Council. This international event is open to any masters-age person (Amateur) around the world, on average above 30 years old. No selection or qualifying processes involved, everyone can compete in your own age category. A total of 22 sports will be contested: Archery, Athletics, Badminton, Basketball, Cycling, Football, Golf, Hockey, Lion Dance, Netball, Pencak Silat, Shooting, Softball, Squash, Swimming, Table Tennis, Taekwondo, Tennis, Tenpin Bowling, Volleyball, Weightlifting and Wushu. The Games will have an opening and a closing ceremony with APMG 2018 torch passing, similar to other international multi-sports sporting events. The Games is sanctioned by the Olympic Council of Malaysia (OCM), International Masters Games Association (IMGA) and supported by Sport Commission. To date, there are 47 countries around the world of people have registered as participants for APMG Penang 2018. For more information about the Games, visit www.apmg2018.com.

The Esplanade Padang Kota Lama field is adjacent to Fort Cornwallis, the spot where the British Empire's Captain Francis Light, the founder of George Town, first landed in 1786. He subsequently built a fort at the location, and the entire area has now become a top attraction and hang-out spot for locals and tourists alike.

The City Stadium, the oldest built stadium still in use in Malaysia, it was built in 1932 by the British government.[1]