World No. 1 Nicol David received a good workout in her 36-minute 11-9, 11-5, 11-8 win over England's Emma Beddoes in the opening round of the 29th Women's World Squash Championship at the SPICE Arena.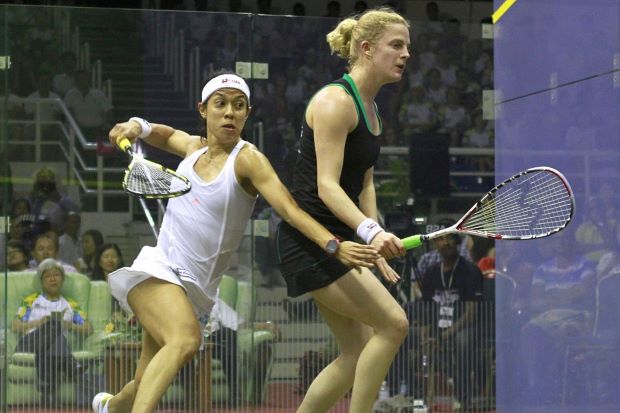 The seven-time world champion got off to a sluggish start as she trailed Beddoes 1-5 in the opening game. But Nicol tightened her game to catch up at 5-5.

Both players traded points until 9-9 before the Malaysian stepped up a gear to wrap it up.

Nicol was in a class of her own in the second game as she romped to an 11-5 win before Beddoes could settle down.

The English player, who lifted the Penang Women's Open title last year, put up better resistance in the third game as she matched the top seed point for point before Nicol again pulled away at the tail-end to book her place in the last 16.

"The first round is always about getting in the groove and I'm satisfied with my performance today," said Nicol.

"Emma did not do anything wrong today and put up a good performance. It was close, especially in the first and third games, and I needed to tighten my game at the right moments to secure the win."

Nicol will face Egypt's Heba El Torky, who stunned 11th seed Annie Au of Hong Kong 13-11, 4-11, 11-7, 11-8, in the second round on Thursday.

The world No. 31 Heba is one of three Egyptian players who moved into the last 16 from the top half of the draw.

"Heba is one of the talented players from the younger generation who have improved a lot. Although I have not played her before, her win over Annie today proves that she will be a tough opponent.

"Everyone playing in the main draw is a strong competitor. If I'm having an off day, they will turn the heat on me," said Nicol.

The world No. 1 was also grateful to the almost 2,000-strong crowd who had come to support her in the opening round match.
"The crowd was amazing today … I'm pleased to win for them. I'm always happy to be playing in front of my home fans."

Nicol is gunning for her eighth world crown in Penang after successes in 2005-06 and 2008-12.
from https://www.facebook.com/simplythebest.my & http://www.thestar.com.my/Sport/Squash/2014/03/18/Nicol-to-face-Egyptian-Heba-in-second-round/